Monday, June 20th, 2011

Lionel introduced the O gauge line in 1915 with 3 different sizes of passenger cars. The little 4 wheeled 600 Pullman cars were the smallest O gauge car. In fact this is the smallest O gauge passenger car ever made by Lionel.
The first year the 600 was made in dark green with a gold stripe under the windows.In 1916 the gold stripe was dropped.
In 1918 Lionel changed the color of the car to maroon. Maroon is the most common color of the 600 Pullman car as it was made until 1925.
Brown cars were made in 1919 or 1920.
Beginning in 1921 Lionel painted the 600 Pullman in some odd colors.  The orange cars shown on this page are an example. Only 2 sets are known in orange. One set is known in olive green.
Some of the dark green cars without gold stripes may also be specials from the 1920s, but they don't look any different  from the cars produced earlier so are largely ignored by collectors. A dark green 600 Pullman with a corporation stamp on the bottom is probably a later special rather than a regular production item.
The pullman was always lettered New York Central Lines over the windows and pullman under the windows in gold. The number 600 is usually on the car end to the right of the door, but some cars have the number on the bottom.    Earlier cars have "The Lionel Lines NY USA" stamped on the end, later cars have a Lionel Corporation stamp on the bottom.
The 600 Pullman came is sets with the 700 and long 150 locos in dark green.  Maroon and brown cars came with 150 and 158 locos. The orange cars came with the maroon 150 loco shown in the photo above. I don't know what loco pulled the olive green cars, but assume it was a 150.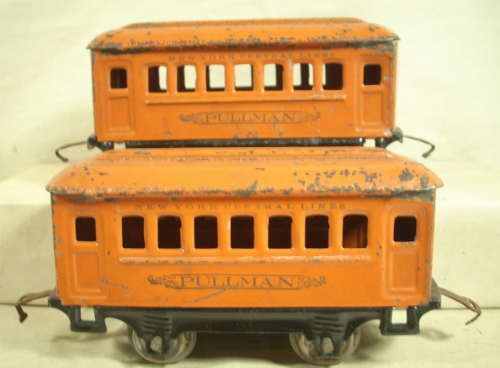 Lionel reused the number 600 for a Pullman car in the 1930s.
[nms:lionel 600 pullman,5,0,0]