Lionel Factory Repainted 38 Locomotive.
Lionel had a policy of repainting items sent in for repair. Also the parts and service forms used until 1928 refer to special paint work.

Lionel would paint things for people in any color Lionel used. The paperwork example I saw said the cars could be painted but it would be months before Lionel used the color. This means Lionel would use whatever paint was being used that day when painting repair items.

This Standard Gauge 38 Locomotive is BROWN on the outside and Dark Olive Green on the inside. It is a factory repaint from the 1918-22 period. The brown exactly matches the brown color used on the early period cabooses. The 38 was cataloged from 1913 to 1924 and came in lots of colors with olive green, grey, and black being most commonly found.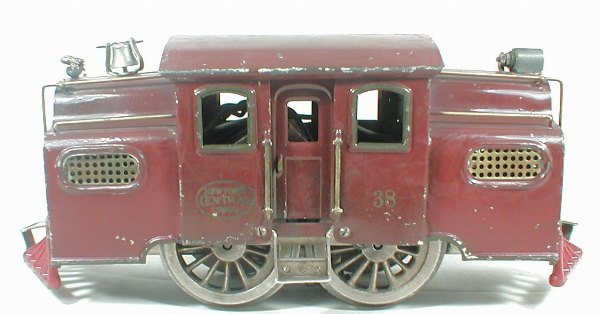 This engine has no evidence of being lettered twice so the engine must have been an unlettered shell repainted and then lettered at the factory.
Why this was done I have no idea. Maybe someone ordered a brown loco, maybe Joshua Lionel Cowen or somebody in sales wanted to see what this loco would look like? At the time this was painted Lionel was offering the Standard Gauge square cab 53 loco in brown and the O gauge 150 locomotive in Brown.
In 1920 the square cab 53 was replaced by the round cab 53 which used the same body as the 38. So this might be a 53 lettered 38. The only difference between a round cab 53 and the 38 is the number stamped on the side.
In any case this is an interesting locomotive. I would like to find a mojave, pea green and peacock 38s for my collection. If you have these items for sale in original finish contact me at the email address below. I also want pea green, mojave, and maroon 33 locos. ALSO maroon and pea green 42 locos.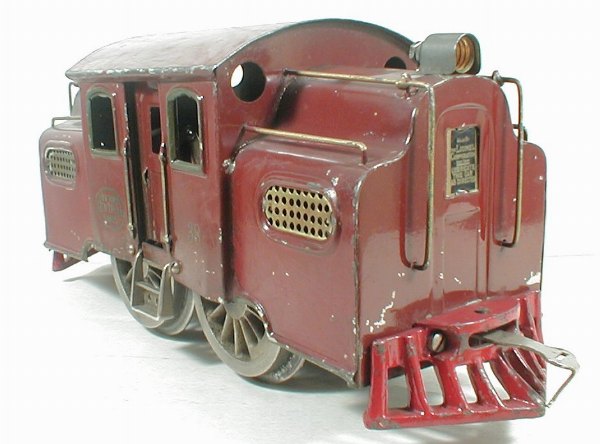 Monthly Oddity Introduction Page
Previous Oddity | Next Oddity
---
---
These Paypal Coupon Codes Will Help You Save Money on eBay.
---