I bought a bunch of real railroad signals, lanterns and switch stands today. I think a switch stand will make a great mail box holder. I bought the stands without knowing how heavy they were, but the woman threw in an old cast iron handcart to move them around. The handcart is pretty neat too!
In among the haul were three of these short signals. They are boxes with Corning glass colored lenses on each side on a heavy steel post. The boxes are mounted on the poles in different configurations.
Here's a photo of one. The color on these is dirty black. The lighter areas are because the signal was still wet from me hosing it off. These were in a back yard with grass and weeds covering them so only a small bit of the pole was visible.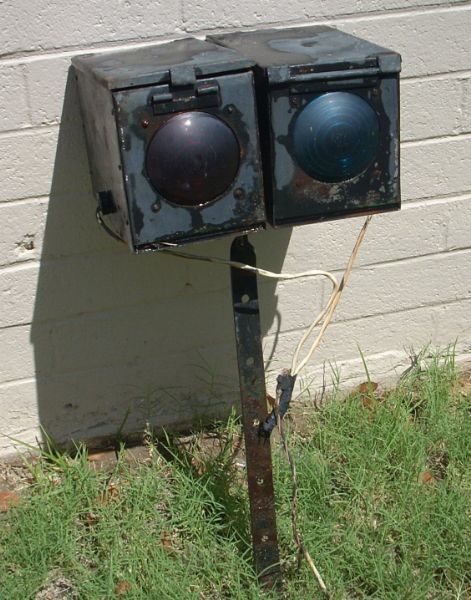 Here's a close up of the signal's face. The lenses are 4.5 inches in diameter.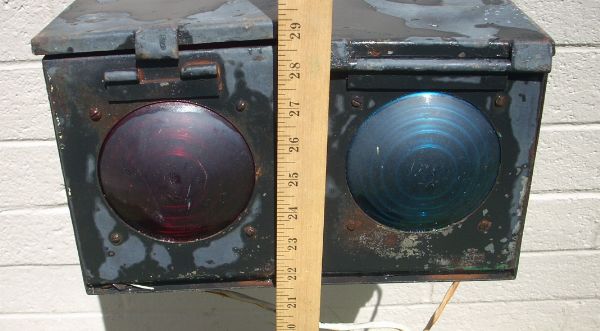 Here's a top view. Each box has two bulbs and has space for 3 lenses. There doesn't appear to be an area to mount a missing divider between the bulbs.
They are about 30 inches tall and the top is about 13 inches square. Set up for electric bulbs, never had any kerosene fonts.
These came from a former Southern Pacific engineer's estate. He retired in 1961. The stuff I got with these came from various western railroads, but much of it was from the SP.
If you know what these signals are drop me a note. TERRY AT NALROO DOT COM.
If you're researching and found this page, here's a link to a website I found with lots of pictures of interesting railroad signals.
[nms:adlake switch lantern,5,0,0]