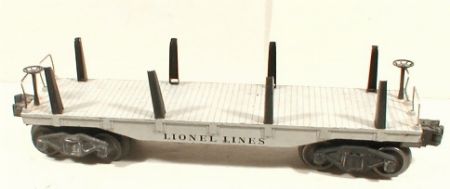 Lionel introduced the 2411 flat car in 1946 as the "Big Inch Pipe Car." It came with 3 blackened steel pipes. These pipes are hard to find today and are worth more than the flatcar.
In 1947 and 1948 the 2411 came with wood logs. These are the same logs used on the 164 log loader.
The 2411 flatcar is very common. It's all metal and looks great with any train. In 1949 the trucks were changed to the new magnetic type and the 2411 was renumber to the 6411.