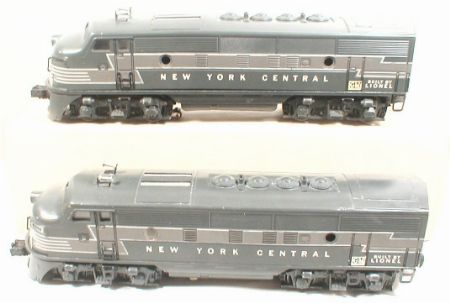 Lionel introduced the New York Central F3 with the number 2333 in 1948. This unit has the same catalog number as the Santa FE unit. The 2333 came as an AA only.
In 1950, Lionel made changes to the motors and renumbered the NYC diesel the 2344. The 2344 came in AA pairs or as a longer ABA set with a dummy B unit. A 2344 B unit is shown below.
In 1953, more changes were made and the unit was renumbered 2354. New York Central was dropped as a road name on the popular F3 locos in 1956.
Like the other F3 locos Lionel made, like new or mint condition units bring a substantial premium. The seperate sale boxes a pair of A units were packed in and orange dummy unit boxes with ALL their flaps also greatly increase the value of these engines.