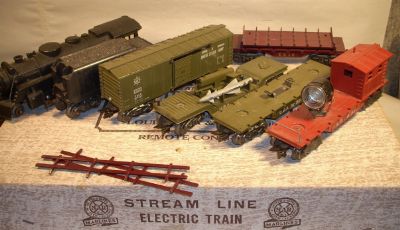 This is a 1958 Marx 52960 army set. (The set box is dated August 1958 on the bottom.) The Army sets are quite desirable. The plastic ones don't have as big a following as the earlier tin lithographed sets, but are still among the most desirable of the plastic Marx trains.
This is a less desirable set because it doesn't have a green engine or tender, but the set contains some desirable cars.
The loco is just a common 666 with an even commoner Santa Fe tender. The caboose is a deluxe A.T.S.&F. work caboose with search light. The Erie automatic electric log dump car is a neat operating car but has no place in an Army set.
The 2858 boxcar and 2824 rocket launcher are desirable cars. I've included individual photos below.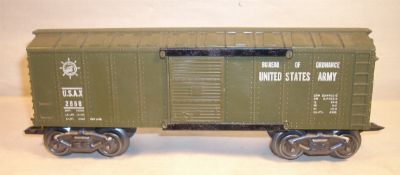 The Marx 2858 United States Army Bureau Of Ordinance boxcar is the most desirable plastic Marx military car. Just drab olive green with white lettering. It does have a sliding door though.

The Marx 2824 Army Rocket Launcher Flat is an action car. There should be three rockets with the car shown above, but they've gotten lost somewhere over the past 50 years. There should also be a green man on the right side of the car, but he went AWOL.

The Marx 2246 Army Flatcar came with silver plastic trucks or jeeps. These are missing from the car shown above. They were probably driven off by the man missing from the rocket flat car and his drinking buddies.
This set is very desirable because of the boxcar. Any Marx collector would be excited to get a set like this.