---
Lionel-Ives 1651E Locomotive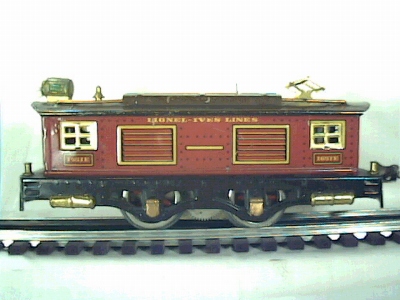 The Lionel-Ives 1651E locomotive was made in 1933 only. It is the only lithographed electric engine to carry the Lionel name. It was only made in one color variation. The locomotive has a Lionel 253 frame that was modified to fit an Ives motor. The cab attaches to the frame with tabs and slots- not screws like the 253 has. This engine only has one coupler; there is no slot to mount a coupler in the front. This engine was originally made by Lionel for Ives in 1931 and 1932. It had Ives on it instead of Lionel-Ives and came in yellow with a blue roof or in red with a brown roof. I will add pictures of the Ives engines in the future along with a few pages of other items made by Lionel for Ives.

The 1651E came in sets with the lithographed 1690 series passenger cars in matching red and brown colors, and with the lithographed 1680 series freight cars. This engine is actually quite hard to find. The Ives versions are even harder to find. The yellow and blue Ives engine is the hardest version of this engine to find.

Back to the Lionel electric locomotive listings.

Follow this link to the Train99.com Home Page

ã

2000 by Terry Gibbs. All rights reserved.