---
Trains From The Attic


or
How To Find Toy Trains.

Part 1

A few years ago I came in from the mail box one Saturday morning, and noticed someone had called. I played the message. It was a friend of mine who collects junk and spends his weekends yard sailing. He had called to tell me about the 65 pound train controller he'd seen at a yard sale. He called from the seller's house and left the telephone number, so I could call back. Thinking he had found an old toy train transformer, I called the seller to find out what it was. The seller told me it was a train engine- not a transformer. A big black train engine. I asked if the engine had a number on it and was told 963. Now I know what a 763 is but I had never heard of a 963.

I am usually quite skeptical when talking with people about their trains. I have driven 35 miles to look at 75 year old standard gauge trains that turned out to be five year old Tyco's. I try to avoid leading the people on because some of them will lie (well "exaggerate" might be more polite) figuring that once I see the train I'll buy it anyway. I asked the seller if the train had any manufacturers name on it. He said it was made by the Moline Pressed Steel Company of Moline ILL.

I asked him how much he wanted for the train. When he said he'd had it appraised my heart fell. I couldn't afford the fantastic prices that appraisers will quote. I think appraisers must get paid on a percentage basis. And I always have a hard time talking the price down into a reachable range, after an appraiser has filled the sellers head with dreams. Anyway, I digress from the story. The gentleman continued to say that the engine needed to be restored. And, he had been told it would be worth $250 after it was restored. So he only wanted 75 dollars for it. I could afford that. I asked if the valve gear was there; I didn't want to appear to anxious. It was. I got directions and left to go look at the train.

I was in such a hurry to get there, I got lost. In my haste to leave I'd left the directions by the phone. I got to the general area where the seller lived and went roaring up and down the side streets looking for yard sales. At the third yard sale there IT was. Sitting on its track in the garage. It was terrible. It was covered with white house paint. Liberally. It was a mess. I asked the seller, "Who painted it?" He told me he was a tow truck driver and had found the train in the trunk of an abandoned car. Also in the trunk was a five gallon can of white house paint. The lid had come off the paint and spilled all over the trunk.

I paid the seller for the train. I am amazed that no one else had purchased the train before me. It had sat on the floor all day Friday and until I bought it on Saturday afternoon, and no one had purchased it. Unbelievable! I don't go to yard sales anymore because there is too much competition and I got tired of hearing "I sold the train an hour ago". And yet, this fantastic train sat there waiting for me.

I took the train home and spent the next week slowly, very slowly, removing the white house paint. I managed to get all the white paint off except for one small dime sized spot. The train was beautiful underneath the house paint. There was very little rust and even fewer scratches.

I call this train GOD. Imagine what a young boy would think when he found one of these under the Christmas tree. Each track section is four feet long. The engine and tender are over forty inches long. I don't know if it weighs 65 pounds, I've never weighed it, but it sound like a good guess.

As a postscript. My friend, who left the message telling me about the train, refused to take anything from me for his help. He said the he was glad to help me get something I'd enjoy. What a friend. I currently have over 10 pickers out there looking for trains. I used to tell them just to buy them if they were under fifty dollars, but stopped doing that when I ended up getting lots of garbage. Now I just have them call me, and I tell them I'll take care of them.

Here's a picture of the train: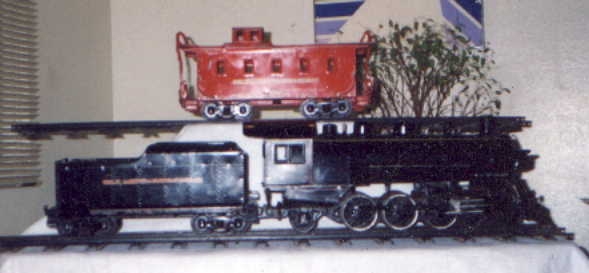 This is a Buddy-L engine made between 1928 and 1932. The engine was originally sold with four pieces of straight track, and the caboose. It is made from thick steel. The track is cast iron rails welded to stamped steel ties. There is no motor as this was a pull toy. Curve track, switches, and freight cars were also available. The curved track makes a 34 foot diameter circle. These were designed to be played with in backyards. Big backyards.

Click links below for more Finds Articles
Next Article

ã

1999, 2000 by Terry Gibbs. All rights reserved.