---
Trains From The Attic


or
How To Find Toy Trains.

Part 5

LIONEL'S VERY FIRST CATALOG DISCOVERED!!
by Paul Wassermann, MD TCA #73-5169

My heart leapt into my throat as I read my computer monitor screen! There before me were words "Electrical Novelties and Specialties." What made those words so special is that they were the result of a global internet auction search using the search words "Lionel" and "Catalog." One additional click on my screen produced an image that made my hands literally tremble . . . for there was a picture of a small catalog with the following printed in the lower right hand corner of the cover:

MANUFACTURED BY
LIONEL M'F'G CO.
24 & 26 MURRAY STREET,
NEW YORK

I have been collecting Lionel pre-war trains and paper for 25 years and was certain that I had never heard or seen of this catalog before. A quick check of my reference materials confirmed by memory's impression; the oldest Lionel catalog known to date was 1901, and that 1901 catalog was distinctly different from the one displayed on my monitor. A quick e-mail response from the seller convinced me of the authenticity of the item as it had been part of a general store in Vermont that had closed in 1911 and the contents of the store held in storage all these years!

At that point I ascertained that I was going to be the winning bidder in the auction, for this was a once in a lifetime opportunity to have perhaps the oldest, very first Lionel catalog! Only one day remained before the auction closed, and only one other individual had discovered the catalog. (It was listed under scientific instruments because no toys or trains are in the pamphlet.) I could hardly sleep that night, anticipating placing my bid with just a minute or so to go in the auction. Taking no chances, my bid was prepared on two separate computers at work, just to guarantee against an electronic crash.

Finally, with my entire office staff watching and waiting, I submitted a "huge" bid, exceeding the previous bidder's bid of $20 by a hundred fold margin. The auction price jumped from $20 to my winning bid of $305 (indicating the other bidder's maximum was $300) and, to screams and yelps from the medical staff at Scottsdale Medical Specialists, the catalog was mine. The seller was most accommodating, overnight mailing the catalog to me even before she had received my payment!

The catalog is in unused condition and pre-dates the incorporation of trains in the Lionel line. It gives extraordinary insight into the first year of the Lionel Manufacturing Co. and clearly proves, I believe, that Lionel did not start manufacturing toy trains until 1901. The patent date for the Photographers' Electric Flash Lamp is given as November 7th, 1899 (patent No. 636,492), so this catalog clearly came after that date. In addition to the flash lamp, shown are a Physicians' Electric Examining Lamp, Electric Illuminated Clock, The Lionel Electric Scarf Pin (Any of you out there have one of those?), Electric Candle, and an Electric Search Light (really a flashlight). The flash light is such a new design concept that the catalog goes to great lengths to describe uses for it, such as "an emergency light for Hunters and Campers. . . a household lamp for going into attic and cellar. . . ." And how about this safety claim: "Can be placed in a keg of gun powder without fear of explosion."

Ron Hollander has gathered extensive information concerning Joshua Lionel Cowen and in his book All Aboard indicates that Cohen received a defense contract from the Navy in 1899 to produce mine fuses and "Cowen claimed he realized the then huge sum of twelve thousand dollars from the contract, more than enough to enable him to go into business on his own." Hollander goes on to state, "On September 5, 1900, Cowen and a colleague from Acme, Harry C. Grant, filed to conduct business in New York at 24 Murray Street." Note that that is the very address on the catalog cover.

If Cohen indeed started business in 1900, this may be the first and only catalog that Lionel made documenting the firm's first product line, and there is not even a hint that toy trains or electric motors were in the future. The catalog helps pinpoint the start of toy train manufacture to 1901, not 1900 as generally presumed. (In fact, Don Fraley relates to me that there was a vigorous debate over the title of the TCA Standard of the World book - whether to call it 1900-1943 or 1901-1943. The prevailing side, 1900, actually was in error!)

Needless to say this catalog is a treasure of immense importance. As Lionel approaches its 100th anniversary (really 99th of toy train production, shall we spoil the party?), it could not have come to light at a more appropriate time. Paul has made a small quantity of reprints of this catalog. Send him an Email. for details.

Here's a picture of the catalog: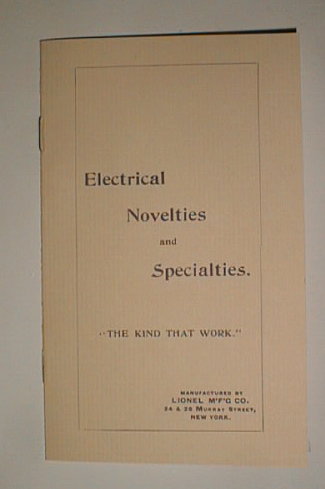 Note the slogan "The Kind That Work"
Here's a picture of an inside page: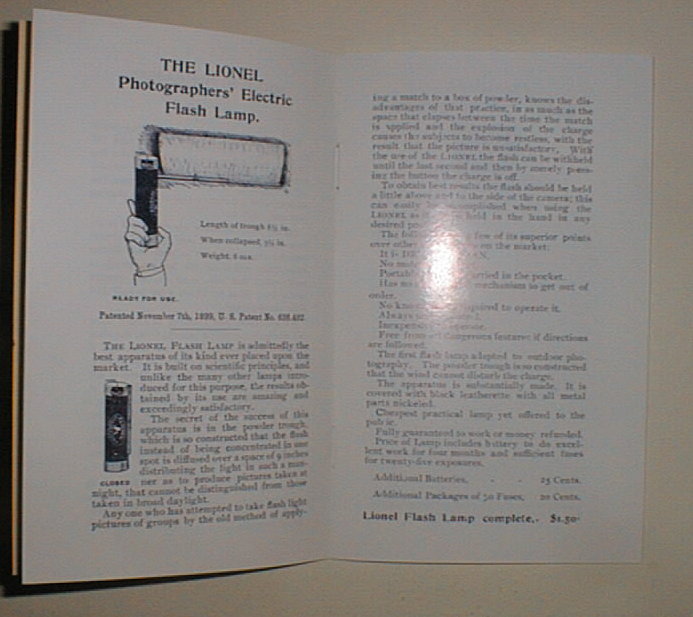 This article was submitted by Paul Wassermann. If you would like to share an interesting story just drop me an e mail. with the story inside it. I will format it and add pictures if you can't take pictures.

Click links below for more Finds Articles
Previous Article

ã

2000 by Terry Gibbs. All rights reserved.