Lionel 1100 Mickey Mouse Handcar
Lettered for Bloomingdales.
We have had this little oddity for about 30 years. These Lionel handcars come in different colors with the red shown here being the commonest. It is just a regular Lionel catalog number 1100 Mickey Mouse handcar, but the back side is rubber stamped Bloomingdales.
Lionel made a few hundred thousand of these handcars between 1934 and 1937. I have never heard of another handcar with this rubber stamping, so this may unique. Or, maybe no other collectors have looked at their handcars and remarked on the lettering. Either way I doubt this handcar is worth much more than a normal handcar without the Bloomingdales stamp. This doesn't mean I am willing to sell it or trade it though.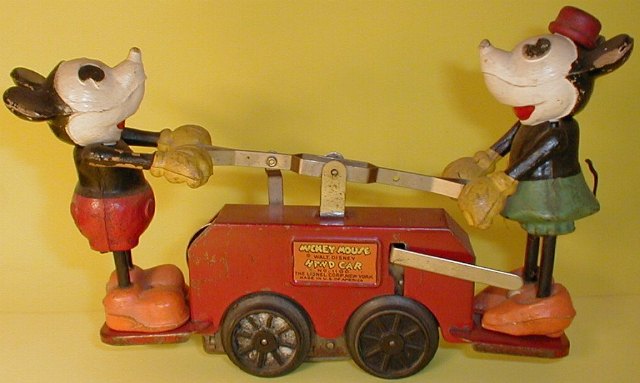 Photo showing front of handcar.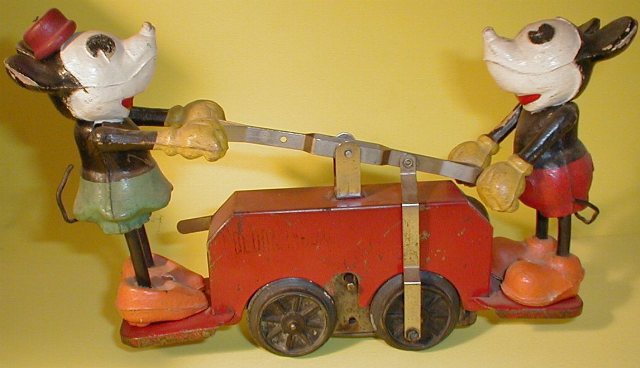 Photo showing rear of handcar. Bloomingdales lettering is on left side.
It is hard to get a good picture of the rubber stamping because it is not very easy to read in the first place.
Every month a toy train that is odd or unusual in some way will be featured. These may be production samples, paint samples, preproduction mockups, factory errors or rare department store specials.
This Mickey Mouse handcar is one of the 17 trains on the Train99 screensaver.
The screensaver works with computers running Microsoft Windows versions 95, 98, NT, 2000 and XP. For more information about the Train99 consult Lionel Prewar Screensaver. The information will open in a new window.

Monthly Oddity Introduction Page
Next Oddity
---
---
These Paypal Coupon Codes Will Help You Save Money on eBay.
---