Lionel 513 Stock Car
Factory Error
I have seen lots of Lionel trains described as "factory errors" over the years. A lot of the items that are commonly called factory errors are just regular production variations. Many of the items owners are guilty of wishful thinking, or may have been given wrong information by supposedly knowledgeable collectors.

Other items like the high window stations (a future oddity) and items with the wrong plates are subject to debate. Not so with this Lionel 513 standard gauge cattle car. One look at this stock car and you KNOW there is something wrong with it. Here is the way Lionel wanted to make the car: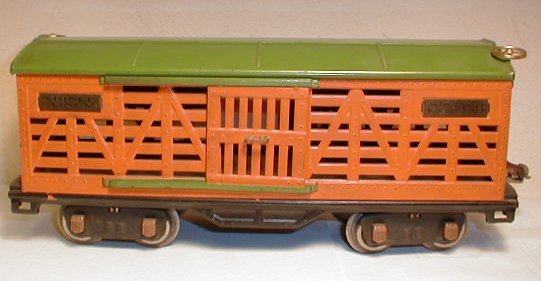 Below is a picture of the side with the error. It is the same car shown above. I date this car to about 1933 because it has copper journals, thick serif lettering on the plates, and no oil label.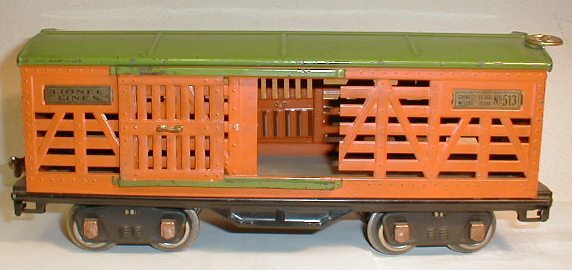 Stands right out doesn't it. The door hole is in the wrong place. See how the slats end in the air, and there is extra material on the other side of the door opening that corresponds with the missing material on the right side. The hole for the door is punched about a quarter inch to the right of where it should be. Look at this close up: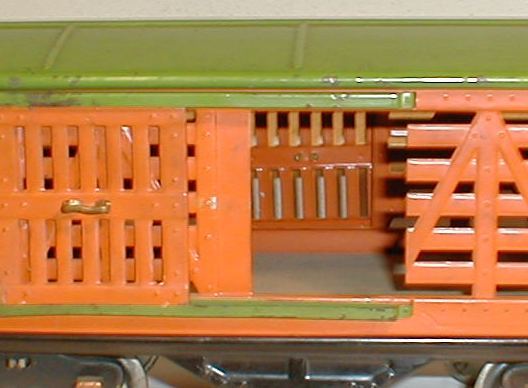 This 513 stock car is a factory error. I define a factory error as an item that would not have left the factory if the inspector had seen the flaw.
Usually factory errors involve lettering that is incorrectly applied or not applied at all. I will have a few of the lettering errors in future monthly oddity columns- use links below. Items with stamping or casting errors are rare. Lionel must have had higher diligence with body errors. See the monthly oddity definitions page for definitions of errors, prototypes, samples, special orders, production variations, and variations.
There is no debate on this car other than what it is worth. Some collectors will pay a premium price for a car with an error like this one. Others would rather have a car that looks right. It is just a matter of taste.
Monthly Oddity Introduction Page
Previous Oddity | Next Oddity
---
---
These Paypal Coupon Codes Will Help You Save Money on eBay.
---