Lionel 1912 Standard Gauge Locomotives
Here are 2 Lionel Standard Gauge 1912 Locomotives. The first one is a regular engine with block style New York Central Lines lettering and thick rims. Earlier engines with script New York, New Haven and Hartford lettering have thin rims. Notice the steps and the headlight. Earlier engines have steps made from 5 pieces of metal soldiered together.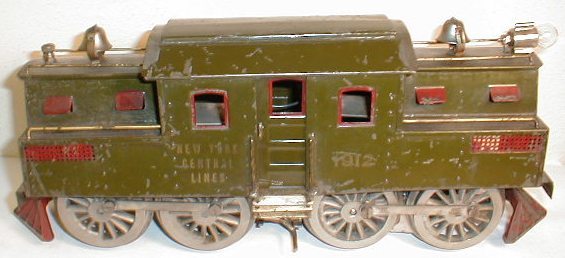 Here is the ODD 1912 Locomotive. Again look at the steps, the headlight and the lettering. This later engine has 3 hole steps. These steps are made from one piece of metal punched and formed. The engine below also has New York Central in an OVAL.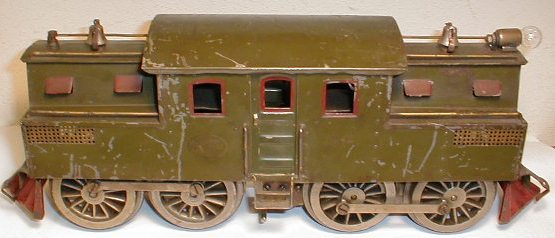 This second Lionel 1912 electric engine with the OVAL lettering is unusual because of the OVAl lettering, the 3 hole steps and the plain roof. There is no monitor roof on this engine. Lionel changed the number of this locomotive from 1912 to 42 in 1912. In 1913 the 42 body was modified into the round cab locomotive. Round cab locos did not have monitor roofs, had oval lettering and had the 3 hole steps.
Below is a close up of the oval lettering and the 3 hole steps. Also notice the weird raised position of the 2 in the number.
The Lionel 1912 Square Cab Locomotive is one of the 17 trains on the Train99 screensaver. The screen saver works with computers running Microsoft Windows versions 95, 98, NT, 2000 and XP. For more information about the Train99 consult Lionel Prewar Screensaver. The information will open in a new window.
Monthly Oddity Introduction Page
Previous Oddity | Next Oddity
---
---
These Paypal Coupon Codes Will Help You Save Money on eBay.
---